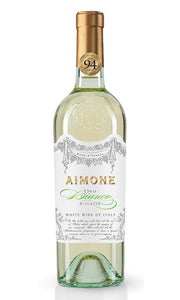 Background Facts
Aimone wine comes from the Ligurian district of Italy (North West) and was created by on the farm of Giobatta Vio (Aimone). In 2017 Aimone was awarded the Tre Bicchieri award by Gambero Rosso as best winemaker in Italy, a great honour as a Ligurian wine producer has never received this award before. This particular wine was also rated 94 (outstanding) by Italian wine expert Lucca Maroni. Aimone also thanked other Ligurian winemakers (Pippo Parodi, Aldo and Umberto Calleri) for their work which has helped Ligurian wine gain high results and inspired a new generation of winemakers.
History
Aimone was born in 1957 and in his early years was a footballer and played in Albenga's and Diano Marina's youth teams. After school and football he helped his father in the fields which specialised in vegetables, mainly artichokes. In the 1980's he began producing sage, rosemary and other herbs. These were put in trays and sold to supermarkets and proved very successful. In 1999 a wine cellar was added to the herb production and grapes were then processed at the farm and proved an immediate success. Today, what was a pastime, the farm produces many fine wines such as Ma Rene, Bon in da Bon, Grand-Pere and Aimone to name but a few. Aimone does not take full credit for this success and says that 'the wines are not created through the will of a single person, but of the whole family'. 

"Wine characterized by the typical scents of the vines belonging to northern Italy, fine acidity and intense fruity aroma accompanied by a spicy nose and a long and balanced finish."


The white version of the Aimone line undoubtedly follows in the footsteps of the red version, with a charming and imposing label and fruity flavors and aromas, worthy of an incredible 94 points in the specialized critics.
In addition, the flavor is characterized by a balanced acidity and good persistence, bringing the typicality of native Italian grapes Catarratto Bianco and Inzolia, combined with the French Chardonnay.
Finally, a beautiful Italian example that will make your "trip" even more special if paired with a light cheese board or snacks for an afternoon with friends.


94 POINT RATED JAMES SUCKLING
94 POINT RATED LUCA MARONI
ITALIAN PRODUCER OF YEAR BERLINER WEIN TROPHY